New Patient Information & Forms
Your First Visit
As you enter our office, we hope you feel at home in a pleasant, friendly environment focused on one thing, our patient's health.  You can expect the first visit to take approximately an hour.
After you have filled out the new patient forms, (right) you will have a consultation with consultation with one of the doctors.  If they determine digital X-Rays would be beneficial, they will be taken at that time.
Your digital X-Rays will be read and you will be given a report of findings.  The doctors want to make sure you are well-informed about your health.  They will take the time to answer your questions.  You will then be treated if it is determined that you need to be adjusted.  This is a very informative visit.
We will make sure you understand our findings and your treatment.
Forms
Click on links below to download our forms:
Please print forms and fill out in advance
(Note: our New Patient Forms also include the HIPAA form.)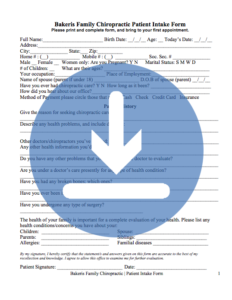 If you print and complete these forms in advance, and bring them to your appointment, it will save you time.
Bakeris Family Chiropractic